Safe and Legal towing of your Caravan is all about getting to you, your family and your vehicles, getting to your destination safely!
So Engineer Aftercare asked our friends at CaSSOA and NTTA member Telford Towbars for their advice as experts.
Driving with a trailer
Speed Limits:
Always keep to the legal speed limit for the road you are using. Speed limits for cars towing caravans or trailers.
30mph limit applies on all roads with street lighting unless signs show otherwise.
50mph applies on single carriageways unless signs show otherwise.
60mph applies on dual carriageways and motorways.
It should be remembered that you must not travel in the outside lane of a motorway, with three lanes or more, if you are driving a vehicle towing a trailer.
Drive within your outfit's capabilities:
Always drive at a speed that is well within your capabilities, and to the road and weather conditions that prevail at the time.
If your trailer begins to snake or swerve, ease off the accelerator and reduce speed gently. (This can happen if you are driving too fast or the load in the trailer is wrongly positioned).
Do not brake sharply on a bend, (this could cause a possible jack-knife situation). Reduce speed before the bend and take the appropriate gear for the speed you are doing. Then gently accelerate out of the bend.
Reversing with a Trailer:
Before reversing, get out of the vehicle and check that all is clear to the rear before making the manoeuvre.
Be on the look out for children and pedestrians. If possible, get someone to watch while the manoeuvre is made.
See detailed "Step-by-step Reversing".
WARNING!! Never reverse a trailer without checking behind because of the huge blind spot. Ideally, have someone see you back, especially in crowded places.
Reversing a trailer is a skill that can be mastered with a little perseverance by anyone who has learned the basic theory. Find somewhere with plenty of space and keep trying until you get it right. It helps to have someone who knows how to do it to tell you where you are going wrong.
---
Step-by-step Reversing
Speed Limits:
This example describes how to reverse to the left because that is easier than reversing to the right.
If you are not sure which way your wheels are pointing at any time lean out and look at them.
Many pre-1989 trailers have a lever that prevents the brakes from operating during reversing.
All trailers built after March 31st 1989 have auto-reverse brakes.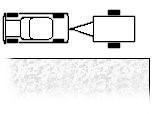 1 ) Start with the outfit as straight as possible and about a trailer's length from the place into which you are reversing. You need plenty of room to swing the towcar round.

2 ) Watching the trailer out of the driver's window, reverse slowly and start turning the steering to the right. It is easier to add more steering than to correct too much.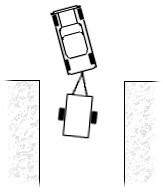 3 ) As soon as the trailer starts to turn, you begin straightening up whilst still reversing. If you leave it too late, the trailer will 'jack-knife'. (This means that it gets to such an acute angle to the towcar that it can no longer be manoeuvred in reverse. This condition can damage towcars with long rear overhangs).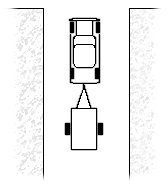 4 ) Eventually you start steering the other way, while still reversing, to bring the towcar's nose round so that the car "follows" the trailer – but keep an eye on where the trailer is going in case it needs correction
5 ) Reverse in a straight line using the door mirrors. Reverse slowly and carefully. When more of the trailer starts to appear in one mirror, steer towards that mirror to start the trailer going the other way. Such corrections only require small steering movements.
6 ) Do not get your mind stuck in reverse! If the trailer goes out of line, it may be easier to pull forward to correct it. On tight turns or if it jack-knifes, to pull forward is your only option.
---
Driving Licences
Summary:
You must hold a full driving licence to tow anything.
Most drivers who passed their test before 1 January 1997 have licence categories allowing them to drive vehicle and trailer combinations weighing up to 8.25 tonnes.
With effect from 1 January 1997 the second EC Directive on Driving Licences (91/439/EEC) came into effect, affecting new drivers passing their test after that date and HGV drivers who obtained their licence after 31 December 1991.
The net result is that new drivers will only be allowed to drive and tow the following combinations:
Vehicles up to 3.5 tonnes (category B) with a 750kg trailer (4.25 tonnes total MAM).
Category B vehicles with larger trailers i.e. > 750kg, provided that the combined MAM does not exceed 3.5 tonnes and the gross MAM of the trailer does not exceed the unladen weight of the towing vehicle. To be able to tow combinations outside this ruling requires the passing of an additional test.
New HGV drivers and those who have passed their HGV tests since 1 January 1992 will be restricted to towing trailers up to 750kg until they pass an additional test.
Detail of the Regulation:
The Motor Vehicles (Driving Licences) (Amendment) Regulations 1990 SI 1990 No 842 classifies vehicles according to either:
"Maximum authorised mass" (permitted maximum weight). Vehicles over 3,500kg MAM are classified as LARGE GOODS VEHICLES (LGV's) ? Number of seats. Vehicles having more than 8 seats (not including the drivers) are classified as PASSENGER CARRYING VEHICLES (PCV's).
Requires Additional qualifications for people to drive LGV's & PCV's.
---
Calculating a Vehicle's Towing Capacity
Details of the towing capacity for your vehicle that are found in the owne's handbook, the manufacturer's website and on other websites should only be taken as a guide.
The actual, exact and only towing capacity figure that should be used for your vehicle is the one that is stamped on the Vehicle Identification Number Plate, VIN Plate.
The VIN Plate:

The VIN plate will display either 3 or 4 sets of weights, it is these weights that VOSA or the other vehicle authorities use to determine whether your vehicle is towing or being driven within the law.
The top figure 'A' is the gross vehicle weight, the Maximum Allowable Mass (MAM) of the vehicle including occupants, fuel and payload.
The second figure 'B' is the gross train weight, this is the combined maximum allowable mass of the vehicle and trailer.
The third and fourth figures 'C' and 'D' are maximum axle loads front and rear respectively.
The manufacturer's recommended maximum towing capacity for your vehicle is the gross vehicle weight subtracted from gross train weight. (4200kg – 2505kg = 1695Kg)
This calculation is based on a fully laden vehicle.
Note:
Certain performance, hybrid and city-car models or similar variants of standard models are not homologated to tow, this means that the vehicle manufacturer has deemed that the model is unsuitable for use as a tow vehicle. With this type of vehicle, the towing capacity will equate to zero or a gross train weight will not be displayed.
---
Vehicle Categories
The main non – LGV (unified) licence categories are:
Category A: Motor cycles (with or without a sidecar), including tricycles and mopeds.
Category B: Motor vehicles with:
A maximum authorised mass (MAM) not over 3,500kg
A maximum of 8 seats (not including the driver's seat)
Trailers being towed by vehicles in this category must either:
Be not more than 750kg MAM – making a maximum authorised Train Weight of 4,250kg
Have a MAM which does not: – exceed the unladen weight of the towing vehicle
Have a MAM which does not: – Have a train weight exceeding 3,500kg
Drivers of vehicles in this category wishing to tow trailers which do not comply with either of the above conditions must have a B + E entitlement.