Caravan & Motorhome habitation service & repairs in Hertfordshire and Bedfordshire, John Wickham is an authorised Approved Workshop Scheme mobile engineer member.
Welcome to MACH Service & Repair, my name is John, I'm an independent mobile engineer so I provide you with an unbiased hassle-free way to have your motorhome or caravan serviced, repaired or accessory fitted wherever you keep it. I come to your home, work, storage facility or even on a camp site if you are taking a break away from home.
No need for you to take time off work and spend money on fuel and if it's a caravan you don't have the hassle of hitching and towing it to a workshop. My service or repair is never rushed; it takes as long as it needs (no extra cost) so that it's done correctly. For your peace of mind all new parts that I supply and fit are guaranteed for 12 months.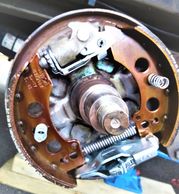 You can be assured of a professional service; I'm fully qualified to work on 230v systems, 12v systems and liquefied petroleum gas (LPG). I have the specialist tools and equipment to ensure that the work is done correctly and safely. No job is too big or too small.
I'm a holder of the National Caravan Council (NCC) Service Award Certificate and I'm a member of the Mobile Caravan Engineers Association (MCEA) and am also an Approved Workshop (AWS) mobile engineer and follow their strict guidelines, so I can work on your new 'van even if it's still within it's warranty period.
To save my customers money, I don't charge VAT on my services or repairs.
Services we offer include:
Habitation checks for Caravan, Motorhome & Campers
Pre-Purchase inspections
Repairs and Habitation Unit servicing to your vehicle
I maintain exceptionally high standards of work and care for your leisure vehicle. It's vital that you get the quality service and repair that you need and deserve because you may have spent thousands of pounds on your unit so you need to ensure that it's always safe to use for you, your loved ones, pets and friends.
I can do a one-off service, diagnose a fault and do a repair, which is great, but I would also like to build a long term trusted professional relationship so that you feel you can rely on me to always work in your best interests with integrity, this helps me too because if you're happy with my service, repair or accessory fitting, you may recommend me to someone else.
For your service, fault diagnosis and repair, I always try and agree a time and date that's convenient for you. If you can't be there when I do your service, repair or accessory fitting, you can leave your keys with someone so that I can gain access to your 'van. So please contact me so that we can make arrangements to look after your valued motorhome or caravan so when you do want to take it for a well earned relaxing trip, everything will be working correctly and safely. This also helps with the resale value of your unit.
To discuss your own vehicle requirements and to get in touch, please go to: www.motorhomecaravan.engineer or call us on Landline: 0333 700 800 5 (mobile friendly) or 07377 800247